How To Become an OAP In Nigeria (Radio & TV ); Full Guide
Do you have the passion of becoming an OAP in Nigeria? Here is a comprehensive guide on how to become an OAP in Nigeria. OAP means On-Air Personality and this is a well-respected profession in Nigeria with good income, as an OAP you enjoy many benefits and you meet people that matters.
In case you naturally love being a radio presenter or a media personality or you just developed an interest in being an OAP different questions may be troubling your mind, questions like — how do I become a media personality? how do I become a radio presenter? how do I work with a radio station in Nigeria? how do I become a radio personality without a degree?
Whichever question you may be seeking an answer for concerning becoming an OAP in Nigeria has been answered below. So, sit tight, take a cup of cold water and read this article in full.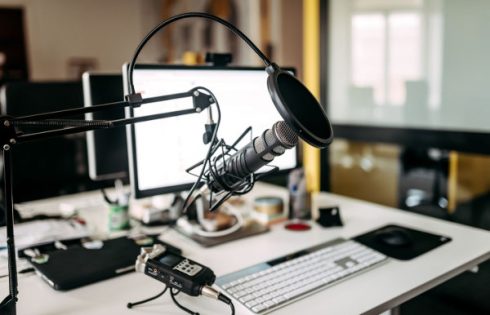 Before diving into the topic of the day which is how to become an OAP in Nigeria, let us quickly give you a clear definition of OAP.
What Is The Meaning of OAP?
OAP is an abbreviation of "On-Air Personality," you find them in various radio stations in Nigeria, they are also known to be media personalities of which they can work both on radio stations and television channels in the country.
What Does An On-Air Personality (OAP) Do?
An OAP job is to speak or read from already drafted scripted materials, such as commercial messages, on radio, news reports or broadcast, television host, or other communications media. They also play and queue music, interview artists (music, movies), interview politicians and other relevant people in the society (guests).
On-Air Personality job defers based on the particular radio station or TV station the person works for, it is necessary for an on-air personality to have a good command of languages, must be an objective and interesting speaker with good conversation handling within the job ethics.
An OAP must also be smart, speak fluently the regional dialects, and also must be able to read scripts accurately, clearly, and also quickly.
In one sentence; OAP is an on-air personality, they are known as announcers, hosts and also newscasters.
How To Become an OAP In Nigeria
Starting a career as an OAP in Nigeria is just like other professions, there is a huge competition for a radio personality job, you need to try and gain some experience and you can start by taking the baby steps where you need a small audience, this will give you a boost and build your confidence. That being said, below is the information you need on how to become an On-air personality and be successful at it.
1. Earn A Degree
Though not necessary but this will help you in the long run. Don't get me wrong, we have hundreds of OAPs in Nigeria with no Degree and are successful at it, what matters most is how you deliver coupled with your talent but the truth is Degree holders will mostly have an edge when applying for an OAP job, also many things will favour a Degree holder because he/she is seen as an educated person.
As an aspiring radio personality in Nigeria having studied courses like Mass communication, journalism or broadcasting you tend to have upper hands over others and aside that, you must have gained a lot of experiences while studying.
2. Make Your Research On The Career
You want to meticulously make extensive research is you really want to become a radio personnel, make proper research on the particular radio station or media house you plan to work with as each radio station's requirements vary. Every media house or radio station have their mode of operation and requirements from job seekers.
Read Also: How Can I Start A POS Business In Nigeria? Guides Here
3. Listen to Radio & TV Programs
You need to frequently listen to radio programs and watch TV programs if you are interested in being a host, scriptwriter, radio presenter and other related tasks. Once you do this over time you will identify the line of OAP you feel you can flow properly on and after that, you need to make that favorite host or presenter your friend, you don't want to miss his/her presentations as this will help you grow quickly in that area of specialization.
Also, you are advised to make it a routine to listen to various radio stations so you don't base your knowledge gathering on one particular station. Going through various stations will make you know many of the practicing OAPs and you can easily tell which one is the best among them all.
4. Be Creative & Smart
To become an on-air radio personality in Nigeria you need to be very smart, be smart about your information gathering skills, be smart about your dressing and also you need to be creative. You don't want to dwell on other people's jobs, you need to come up with ideas that will make you unique.
You want to put all your gathered experiences into work, you can carve out a niche of programmes which will distinguish you and being creative means you have to start putting it into good use.
5. Don't Be Afraid or Shy to Start Small
When we talk about putting your ideas and gathered experience into work we actually mean you should start doing something, don't wait until you get a job. Here you can start a podcast, vlogging, Facebook page or group and also you can start interviewing your friends, picking a topic to discuss on and taking over your space.
With this, you have propelled yourself and you are now a public figure, this will open doors of opportunities for you even if you decide to work in a radio station or be a TV host.
6. Seek Internship /Job Opportunities
To boost your CV further you need to seek job opportunities with registered and well-recognised media firms, radio stations and even Television stations. Remember you are only known by few and you want to achieve greatness in what you know how to do best so to be an achiever you need to work with organizations that has that big platform.
To make securing a job with top radio stations easy you can start submitting applications to many radio stations and media platforms. You can also work under a practicing OAP so you can gain more knowledge and at the same time pave a way for yourself, this will increase your chances of being an OAP within a few weeks.
Once you start your internship or work under an OAP you use the opportunity to interact with the equipment being used by the OAP, you familiarize yourself with how things are being done there likewise making friends and meeting people within the same profession. For undergraduates in the University or other higher institutions, you can also apply at your school radio station where you have limitless access to the studio. Read about popular Nigerian OAP Daddy Freeze of Cool FM below.
Read Also: Full Biography of Daddy Freeze – Age, Family and Facts
Conclusion
Being an OAP, radio presenter or media personnel is an admired profession, once you are known you are a celebrity and this will make your success speedy. Mind you, being an OAP isn't an easy thing, it takes time, dedication and can be demanding, you also need to be in your right state of mind but overall, it is worth it.