How To Withdraw Money From eToro? 2023 New Method
eToro is an investment trading platform that is well-known among professional traders for its ease of use and wide range of financial instruments. If you are just starting to make international investments, find out how to withdraw money from eToro here. Let's go.
What is eToro?
eToro is a multi-asset platform offering investment in stocks and crypto assets. Through its trading platform, eToro allows you to choose which trading feature you want to use: social trading or manual trading.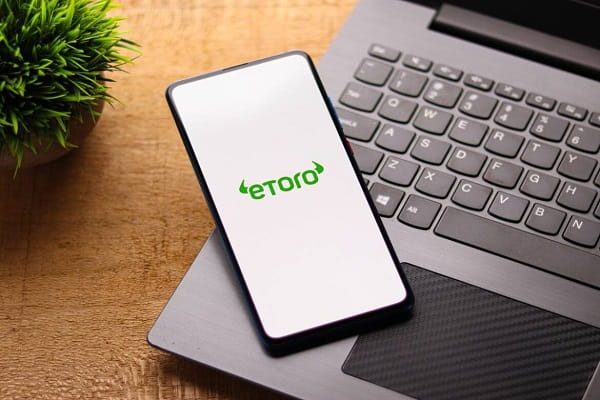 In the first case (Copy Trader), it allows you to copy trades of investors with trading experience. This feature is great for eToro beginners because you don't need any knowledge to copy other traders' positions.
The trading platform was created in 2007 by an Israeli duo, quickly grew and is present in more than 140 countries. Today, its brokerage services are among the most competitive in the market.
How does eToro work?
Simply put, eToro is a trading platform. In it, you can choose from thousands of different assets to buy, including shares of the world's biggest companies (like Tesla, Amazon and Apple) and cryptocurrencies.
Its main functionalities are:
Platform with more than 3 thousand assets;
Free insurance covering up to 1 million US Dollars (USD) in eToro investments;
Community of traders and investors with more than 30 million users;
News feed;
People-based portfolio investing with Top Trader SmartPortfolios;
Investment portfolios made by experts;
Copy Trader;
USD 100k free demo account.
Furthermore, eToro can be used on the website or via the mobile app, which can be downloaded directly from the Google Play Store and the Apple Store.
How to withdraw money from eToro?
The steps to withdraw money from eToro are as follows:
Login to your eToro account and click on "Withdraw Funds";
See the amount available for withdrawal and inform how much you will withdraw (in US dollars USD);
Complete the electronic form as requested
Click "Send";
Select the payment method and complete the transaction.
To request a withdrawal, you must have at least USD 30 available for withdrawal in your account, that is, in uninvested funds.
In addition, withdrawals can be made in different currencies, the main ones being US Dollars (USD), Euros (EUR) or British Pounds (GBP). 
The withdrawal method is usually the same as the one the customer chose to deposit. For example, if the deposit was made via credit card, this will also be the withdrawal method. If this is not possible, eToro will request an alternative means.
How to transfer money from eToro to bank account?
To transfer money from eToro directly to your bank account, simply set this as your payment method at the time of withdrawal. In this way, the amounts will arrive in your account already converted into reais.
However, you have to be very careful. This is because traditional banks charge high fees and there is much more bureaucracy to receive your amounts. The best way is to transfer your money is to use online international money transfer platforms such as Remessa Online. With it, you pay lower rates and there is less bureaucracy. 
What are eToro's withdrawal fees?
eToro charges a fee of USD 5 for any withdrawal on the platform. This amount is fixed and charged on all withdrawals.
In addition to this fee, there will be a currency conversion fee if the withdrawal is not made in US dollars, but the platform does not inform the amount of this fee.
It is also important to point out that as payments are made in foreign currency, you will pay other fees to receive amounts in your country's currency. Typically, in traditional banks, these fees are high and there is still a fee for currency conversion. 
How long does it take to withdraw from eToro?
Withdrawing from eToro takes between 2 to 10 days to complete. Processing time depends on the chosen withdrawal method:
2 working days 
3 working days
10 working days
Paypal

Neteller

Skrill

Trustly

iDEAL
Payoneer
Credit card

Debit card

Bank transfer
In addition to this deadline, it is necessary to add the processing time of the chosen payment method, after the money has been released by eToro.
For example, on a credit card, it may take an additional 14 business days. International bank transfers can take an additional 8 business days when made through traditional banks. 
Read Also: How To Invest In The Stock Market? Beginner's Guide
FAQs
How to withdraw money from eToro?
To withdraw money from eToro simply login to your account and go to "Withdraw Funds". Generally, the withdrawal method must be the same as the deposit method and the payment is made in US Dollars.
What are eToro's withdrawal fees?
eToro charges a fee of USD 5 on all withdrawals. Also, if the payment is not made in US Dollars, there is a currency conversion fee.