LASTMA Salary Structure 2023; Current LASTMA Salary Based on Ranks
What is LASTMA monthly salary? Lagos State Traffic Management Authority, commonly referred to as LASTMA, is the state's government agency charged with the responsibility of managing, regulating, and controlling vehicular in Lagos State.
If you commute the roads of Lagos State frequently, especially as a driver, you must have seen certain officers wearing a yellow top and reddish-brown trousers. These are LASTMA officers and they have been appointed to operate at designated locations across the entire state of Lagos, and they have been helping to enhance the state of Lagos roads for more than 15 years.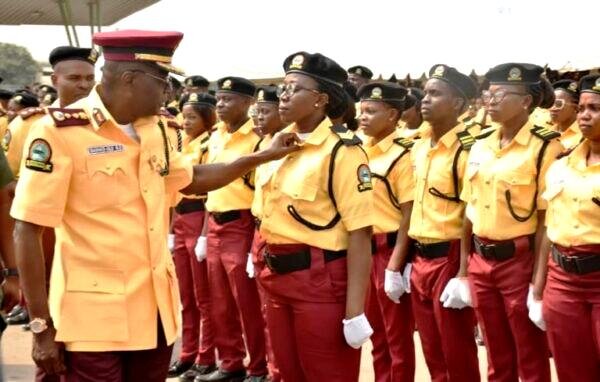 If you are concerned about the salary structure of LASTMA or you just intend to know how much their staff is being said every month, this article already has the information you seek.
You would learn about the current (2023) salary structure, as well as all the ranks available in the agency.
Read Also: FIRS Salary Structure; Functions, Mode of Operation & Salary
About LASTMA
The Lagos State Traffic Management Authority (LASTMA) is a law enforcement agency that operates only in Lagos state. It was set up in 2006 by the then governor to uphold traffic-related laws in the state. The agency was also facilitated by the Federal Ministry of Transport. The agency helps to see the smooth running of traffic, especially in the urban areas of Lagos state.
There are various LASTMA office locations across the state, as well as thousands of recruited officers that operate in designated locations (bus stops and roundabouts) in Lagos. They ensure that both commercial transporters and private car owners obey traffic regulations for utmost safety.
Importance of LASTMA in Lagos
LASTMA officers perform very crucial duties in Lagos state, and this makes the law enforcement agency one of the most important government-owned bodies in the state. With their obligation to enforce traffic regulations, control the flow of moving traffic, and apprehend drivers that go against the traffic laws, LASTMA is helping to promote safety and peace in the roads of Lagos state.
More importantly, LASTMA also helps people who have car trouble along the road. That is, if your vehicle breaks down on the highway, and you happen to find a LASTMA close by, you'd be able to get assistance from that officer.
LASTMA Salary Structure in 2023
The Lagos State Civil Service Authority is the organization that has every information about the salary structure of all government workers. But sadly, they have not provided a piece of comprehensive information on how much every LASTMA personnel is being paid based on ranks. Hopefully, when they provide the salary information, we would update you on this very site.
Nevertheless, based on speculations over the years, as well as information from some previous LASTMA staff, we have been able to deduce how much a LASTMA officer earns on average.
Contrary to what many people believe, LASTMA Salary is a little bit attractive, compared to other law enforcement bodies such as the Nigerian Police Force.
A newly recruited LASTMA officer earns a minimum of N50,000 monthly. But if you are a graduate who just got recruited, your salary would begin from N120,000, which is a very reasonable paycheck. Just like the Nigerian police force, LASTMA staff are being paid based on their ranks. So the higher your rank, the bigger your earnings.
Ranks in LASTMA
The hierarchy in LASTMA is very similar to that of the Nigerian Police. The only difference is that the head of the LASTMA agency is referred to as the General Manager for Traffic Management. Also, the same symbols used in the hierarchy of the Nigerian Police force are also used by LASTMA to rank their staff.
Read Also: Nigerian Police Salary Structure; Salary Based on Ranks
Functions of LASTMA
You already know that LASTMA is a law enforcement agency owned by the Lagos state government, and the agency is mainly responsible for overseeing the flow of traffic and how commuters are to operate in line with traffic regulations. What you don't know, however, are the specific functions that are performed by LASTMA officers on a daily basis.
The functions of the LASTMA include the following:
Protecting and promoting the safety of road users in Lagos state
Improving the condition and appearance of major roads in the state.
Reducing traffic congestion and promoting quick commuting.
Managing accidents and controlling traffic
Educating the public, especially drivers, of traffic regulations.
Training drivers and issuing certification.
Inspecting vehicles when necessary.
And other minor roles to enhance safety in Lagos roads.
Departments or Divisions under LASTMA
There are various departments operating in LASTMA, so as to ensure that the agency always achieves its objectives successfully.
Here are the following LASTMA departments:
Administration and Finance
Education and training
Accounting
Logistics and transport department
Planning, statistics, and research.
Store units
FAQs
Does LASTMA have offices in other states?
LASTMA doesn't have any extensions or offices outside Lagos state. The agency only operates within the state of Lagos.
How does someone become a LASTMA officer?
One can become a LASTMA officer by applying during the recruitment program, and if accepted, one would also participate in the training for new recruitees.
Is being a LASTMA officer more beneficial than serving the Nigerian police force?
LASTMA officers can sometimes earn more than Police officers, especially when they are graduates. In the police force, however, some staff are lucky to get free accommodation. This is something that doesn't happen in LASTMA.
Conclusion
LASTMA is a government agency that operates within Lagos State only. This las enforcement agency is open to receiving the applications of aspiring and intending LASTMA officers whenever their recruitment program takes place. They receive applications online and continue the recruitment process on-site.
Just as you've read in this article, graduates earn twice as much as officers that only have a school leaving certificate. Moreover, if you intend to become a LASTMA officer, and you are a graduate, you'd have an edge over other applicants that aren't graduates.
Read Also: EFCC Salary Structure; Division, Ranks & Recruitment
Although we couldn't give you a piece of comprehensive information on the salary structure, we did tell you how much you can potentially earn as a new recruit.