Jowi Zaza Net Worth and Biography; Houses, Cars & Facts
In today's article, we will be talking about Jowi Zaza biography, his net worth, age, family, relationship, cars, houses, and other assets. Joseph Eze Okafor (Jnr) a.k.a Jowi Zaza, is the son of a billionaire oil mogul, Chief Joseph Eze Okafor. He is one of Nigeria's youngest multi-billionaires.
Unlike other wealthy people, you won't find Jowi on social media flaunting or boasting about his fortune. He's a dashing, level-headed, and hardworking young man who prefers his privacy, and he's also one of Nigeria's most powerful youths today.
Before we dive into Jowi Zaza full biography we feel it will be cool to show you a piece of his profile information.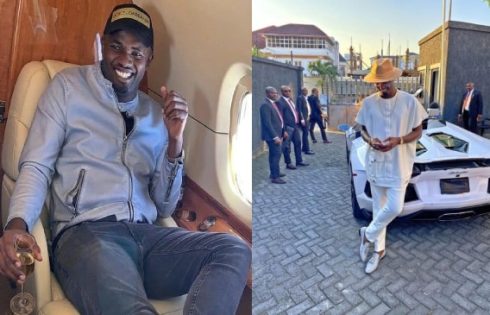 Jowi Zaza Profile
The table below represents a quick biography of Joseph Eze Okafor (Jnr), also known as Jowi Zaza.
| | |
| --- | --- |
| Full Name: | Joseph Eze Okafor (Jnr) |
| Nickname: | Jowi Zaza |
| Date of Birth: | 19th March 1985 |
| Age: | 37 Years Old |
| Place of Birth: | Ekwulobia, Aguata Local Government Area, Anambra State |
| State of Origin: | Anambra State |
| Tribe: | Igbo |
| Nationality: | Nigerian |
| Education: | Coventry University London |
| Height: | 5 feet 9 inches / 175 cm |
| Weight: | 74 kg / 163 lbs |
| Hobbies: | Travel, music, and fashion |
| Marital status: | Single |
| Children: | N/A |
| Religion: | Christian |
| Occupation: | Businessman (Oil and Gas) |
| Net worth: | $150,000,000 |
| Instagram: | @jowizazaa |
Biography
Knowing a few facts about influential people before meeting them, whether for business or pleasure, would be advantageous. So, if you haven't met Jowi Zaza yet, be ready to meet him immediately as we go over his life story.
Jowi Zaza age is 37 years as he was born on the 19th March 1985 in his state of origin Anambra State, Ekwulobia to be precise in Aguata Local Government Area of the state.
Read Also: Richest Igbo Men In Nigeria (Top 10 Ranking)
Jowi Zaza is an Anambra State native who hails from Ekwulobia in the Aguata Local Government Area. He has a slew of high-end automobiles, private aircraft, homes (both domestic and international), and other multimillion-dollar investments.
Early Life
Jowi Zaza lived his early life in the Eastern part of Nigeria, Anambra state to be precise.
Consequently, Joseph Eze Okafor (Snr.), who is the owner of Jezco Oil, ensured his son (Joseph Eze Okafor (Jnr.) was well educated and brought up in order to inherit his investment.
We're pretty sure his father will be proud because he's currently the C.E.O of Jezco Oil Company.
Personal Life
Jowi's lifestyle is opulent, as one would expect from a billionaire. The young billionaire enjoys traveling across the world as a hobby. He enjoys flying in private aircraft, shopping, buying vehicles, dining in 5-star restaurants, shooting photographs, and listening to music.
He currently lives in his own mansion in the United Kingdom and also owns a mansion in Lekki, Lagos State, demonstrating his appreciation for the finer things in life.
Jowi Zaza attends high-end events and parties on occasion. E-Money, Obi Cubana, Escoba Smith, and Cubana Chief Priest are just a few of the Nigerian celebrities and figures he's been seen with recently.
Education
Jowi Zaza earned his Senior Secondary School Certificate (SSCE) at Sacred Heart Seminary School in Nsude, Enugu State, in the pursuit of becoming a successful businessman.
He was accepted into Madonna University, Okija, after successfully finishing his secondary school education, where he earned his BSC degree.
He also continued his schooling at Coventry University London and Kelce College of Business in the United Kingdom, earning his post-graduate studies in 2013.
Career
You'd think that as the son of a billionaire businessman, he'd be his father's apprentice, but in this ever-changing world, apprenticeship isn't enough. While his father instilled in him the value of hard work and wealth creation, his continued education enabled him to become more aware of the unspoken business laws.
Following his studies, he joined his father in managing Jezco oil, the company that earns all of its astronomical profits.
He is currently the CEO of Jezco Oil and Jezco Lubricants, a thriving oil and gas company founded by his father in the 1970s.
Currently, the corporation has filling stations and retail locations all around the country.
Professional Experience
He is currently the CEO of Jezco Oil and Jezco Lubricants, a thriving oil and gas company founded by his father in the 1970s.
Currently, the corporation has filling stations and retail locations all around the country.
Jowi Zaza's Car Collection
We took a look at Jowi Zaza's garage, and the class and number of cars we saw blew our minds. The young billionaire has a thing for luxurious and expensive cars. These cars include;
Polaris Slingshot
Range Rover Sport.
Chevrolet Camaro
Lamborghini Urus
Lamborghini Aventador
Porsche Panamera
The Mercedes Benz E-Class
BMW X6
G Wagon Mercedes-Benz
Cullinan Rolls-Royce
Phantom Rolls-Royce
Bentley Continental
CLA Mercedes-Benz
Polaris Slingshot: Designed for men with class, the Polaris Slingshot is a luxurious three-wheel power bike with lots of amazing features. This car cost about $28,899.
Lamborghini Urus: Lamborghini's Urus is the first SUV produced by an Italian luxury car manufacturer. The Urus is powered by a 4.0-liter V8 twin-turbo engine that produces 650 horsepower at 6,000 rpm and 850 Nm at 2,250 rpm. It can accelerate from 0-100 km/h in 3.6 seconds, to 0-200 km/h in 12.8 seconds, and speeds up to 305 km/h. The car costs $218,000.
Mercedes Benz G-Wagon: Additionally, he has a Mercedes Benz G-Class in his garage and it cost about $131,750.
Bentley Continental GT: The young billionaire owns a Bentley Continental GT Coupe. It is one of the world's fastest cars. Besides its speed, the car is also extremely luxurious. This car cost about $210,000
Rolls Royce Cullinan: There has been only one SUV produced by Rolls Royce, the Cullinan. It offers luxury and speed in equal measure. Priced at 250,000,000 Naira, this SUV is one of the most expensive on the market.
The Cullinan is powered by a powerful 6.75L V12 engine that generates 563 hp and 627 lb-ft of torque.
Lamborghini Aventador: Zaza got himself a Lamborghini Aventador worth no less than 120,000, 000 Naira to mark his 36th birthday celebration. It is one of the fastest cars on earth.
The car is powered by a powerful V12 engine. As we all know, Lamborghini builds every one of its cars manually, by hand. And so they take their time crafting each one.
Jowi Zaza's Houses
Currently, Zaza lives in his own house in the UK and he also owns a mansion here in Nigeria, which is located in Lekki, Chevron Drive, Lagos State.
Assets
Jowi Zaza's net worth is estimated at $50,000,000 – $100,000,000. This makes him one of the most successful young men in Nigeria and Africa as a whole.
Aside from the Jezco oil company, He also has a factory where plastics are manufactured.
What you need to know about Jowi Zaza (Facts)
A few interesting facts about Zaza the young billionaire.
– He is the CEO of Jezco Oil Nigeria Limited
He is the CEO of Jezco Oil Nigeria Ltd, a multi-million dollar oil and gas company founded by his father in 1980. The company became a registered oil service company and a supplier of petroleum products in 1988, 8 years after it was founded.
– He owns houses in Nigeria, the United Kingdom, and the United States
He owns real estate in Nigeria, the United Kingdom, and the United States. In Nigeria, he has houses on Banana Island and Chevron Drive in Lekki.
– He has a thing for fast cars
He loves exotic cars and supercars. The cars owned by Jowi Zaza are estimated to be worth millions of dollars. Among the cars in his garage is a Bentley Continental GT worth N78 million, a Mercedes-Benz 4matic worth N15 million, a Brabus G wagon, and a Rolls-Royce Phantom.
Read Also: Obi Cubana Net Worth & Bio – Age, Career, Family & Facts
Social Media
You can get in touch with Jowi Zaza on his social media handles.
Instagram: @jowizazaa
Twitter: @jowizazaa
Facebook:- @Jowi Zaza
TikTok: Not available
Snapchat: Not available
Phone Number: Private
FAQ
Does Jowi Zaza have any other source of income besides Jezco Oil?
Currently, there are none asides from the profits accrued from his oil and gas business. The report has it that that's his only source of wealth.
Is Jowi Zaza married?
No, Jowi Zaza isn't married. However, rumors were passed around on his alleged relationship with Mercy Eke, a BB-Naija Reality TV star.
Where is Jowi Zaza From?
Jowi Zaza is from Ekwulobia, Aguata local government area of Anambra State. However, he spent his childhood days mostly in Enugu state.
Is Jowi Zaza's father alive?
Yes, Jowi Zaza's father is very much alive.