5 Most Beautiful Cities in USA -[America's Most Beautiful Cities]
The United States is among the most touristic countries in the world thanks to its spectacular places, where architecture and natural beauty paint the perfect picture that gives a feeling of having seen the best. Therefore, when visiting this country you surely want to know which are the most beautiful cities.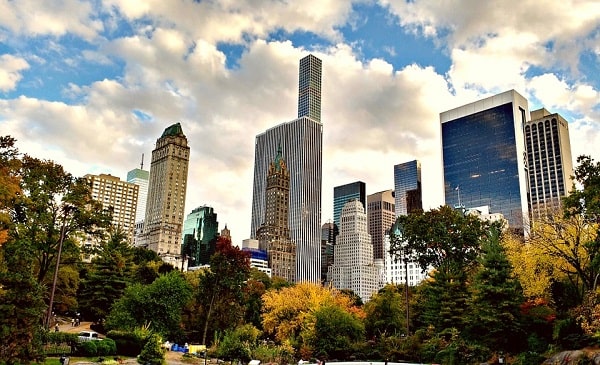 Now, to facilitate your search, we will present you with a top 5 of the most beautiful cities
It may be difficult to make a short list of what these cities are, since the US is the fourth largest country, and most of the places are beautiful. 
Read Also: The 7 Most Beautiful Airports In The World
However, some stand out more than others and are among the most visited. Now, to facilitate your search, we will present you with a top 5 of the most beautiful cities in the USA.
The 5 Most Beautiful Cities in USA
Obviously, for a city to be beautiful, it does not necessarily have to be a paradise, since each place has its essence, that is, outstanding features that make the place a pleasing place to look at.
In this sense, a beautiful city can be surrounded by a wide sea, trees, mountains or even just buildings. The 5 cities described below will surely take your breath away when you see them.
1. San Francisco
Besides walking through its neighborhoods and squares, discovering its museums and seeing its famous monuments, San Francisco has much more to offer. Here you will find both the most famous tourist attractions and other lesser-known places.
One of them is Muir Woods Park. Due to its importance, it was declared a National Monument in 1908.
Located in Marin County, just 12 kilometers from the Golden Gate Bridge in San Francisco, Muir Woods is a 295-hectare forest full of giant sequoia trees wrapped in a dreamlike green landscape.
This beautiful city is favored by many for its famous and most photographed red Golden Gate Bridge. In fact, it is the longest suspension bridge in the world, and offers a spectacular panoramic view on the opposite side of the city. it is even possible to cross it on foot or by bicycle.
2. Las Vegas
It is also known as the city of gambling for its famous casinos. Visiting Las Vegas will make you feel like a movie star due to the many bright lights that adorn the city and themed hotels, which also makes it possible to have a spectacular view at night.
Its huge themed hotels along the Strip offer all kinds of activities, from playing in its casinos, shopping in its shopping malls, seeing magic, circus or music shows, to celebrating your own wedding.
In addition to enjoying its attractions and shows, it offers you the opportunity to take an excursion to the spectacular Grand Canyon of Colorado or rent a car and take a section of the mythical Route 66.
3. Seattle
To have a panoramic view of the beautiful city, it is necessary to be at a good height. That is precisely what you can do when you climb the Space Needle in Seattle (184 meters high) and thus enjoy a complete view of the place including the mountains and lakes that are around it.
After being built for the 1962 World's Fair, the Space Needle became an internationally recognized icon and Seattle's most popular attraction.
Read Also: The 10 Most Beautiful Cities In Latin America
But visitors to Seattle don't just flock here for the great outdoors. They come for the music, culture, lifestyle, coffee and attractions
If food markets drive you crazy In Seattle you have to write down this name: Pike Place Market, where you can walk among hundreds of stalls of all kinds of food and also through restaurants where you can appease your hunger.
Another site of interest is the Seattle Aquarium.
Conveniently located on Pier 59, the Seattle Aquarium is the seventh most visited aquarium in the United States, featuring more than 380 species of birds, fish, invertebrates, and marine mammals.
4. San Diego
Located in southern California is this beautiful city, not only for its modern buildings but also for its prosperous commercial port. In addition, the mild climate makes the experience even better and is undoubtedly the perfect combination for residents and visitors.
There are many things to see in San Diego, but its beaches deserve a special mention. And it is that in San Diego you will find some of the best beaches in the United States such as Coronado Beach, Mission Bay, and Pacific Beach. One of the most glamorous places to visit in San Diego is La Jolla Beach, famous for its grand mansions, restaurants, art galleries, and luxury hotels.
Also, if you are looking for something to do in San Diego at night, Gaslamp Quarter San Diego is one of the most iconic spots in the city to enjoy a fun night out with family or friends.
It is full of cafes and bars where you can have a drink and listen to live music, something essential to do in San Diego.
5. New York
With the iconic Brooklyn Bridge as a symbol, the scene is more beautiful and elegant. In addition, you can take a walking tour while looking at the lower Manhattan with an unparalleled view. Also, New York is the most populous city in the US and high-rise due to its huge skyscrapers, as it is a super modern image.
In addition to visiting its most emblematic points such as Times Square, the Empire State Building or the Statue of Liberty, we recommend you enjoy international cuisine and its delicious hamburgers, visit more authentic neighborhoods such as Harlem or Queens, go up to the incredible viewpoints, visit free museums, stroll through Central Park, go shopping on Grand Avenue, see a Broadway show and above all, feel like a New Yorker.
There is no doubt that the United States has a large number of beautiful cities. However, the ones mentioned here are places that you cannot miss if you really want to enjoy amazing views.
Read Also: The 10 Most Beautiful Cities In Africa
Comment which of these cities you would visit and why. Remember that if you want to know more about this topic or others related to the United States. Don't forget to browse our website. If you found the article useful, please share it.