Warren Buffett Biography and Net Worth 2023: [Investments & Facts]
Warren Buffett is one of the greatest stock market investors of all time. A practitioner of the Buy and Hold investment strategy, the American billionaire is admired by a legion of people who follow his variable income strategy.
Born in a small town in Omaha, in the interior of the state of Nebraska, in the United States, the so-called Oracle of Omaha started investing early on and, over time, accumulated an enviable fortune. To give you an idea, the old man is among the richest men in the world, with an estimated net worth of more than 100 billion dollars.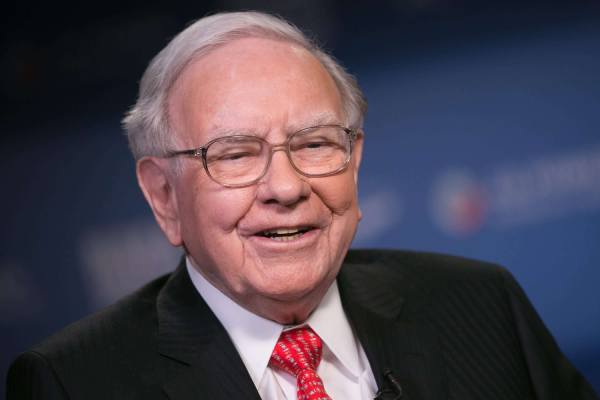 Despite having a lot of money today, it should be noted that Buffet's wealth accumulation trajectory borders on 80 years of investments. During that time, Buffett invested in hundreds of US companies, and along the way, he acquired Berkshire Hathaway, which is now his investment holding company.
As the holding company is publicly traded, it is possible to observe the evolution of the price of its shares, which went from around $7,100.00 dollars in 1990 to more than $400,000.00 in 2021:
During this period, and also long before that, Buffett invested in companies that were well known to most people, including:
Walt Disney Company;
Wells Fargo;
Coca-Cola Company;
American Express;
Kraft Foods Inc;
Wal-Mart Stores;
Johnson & Johnson;
Procter & Gamble.
With his almost unparalleled ability to allocate capital to variable income, Warren Buffett was able to reach a historic return close to 20% per annum. To give you an idea, $1 invested in it in 1950 would have turned into $143,476 in 1993.
Warren Buffett Profile
| | |
| --- | --- |
| Full Name: | Warren Edward Buffett |
| Birth Date: | 08/30/1930 |
| Birthplace: | Omaha, Nebraska, United States |
| Children: | 3 |
| Nationality: | American |
| Training: | Administration from the University of Nebraska |
| Occupation: | Chairman and CEO of Berkshire Hathaway |
| Fortune: | $106 billion (2023) |
| Marital status: | Married |
| Social Media: | https://twitter.com/warrenbuffett |
Warren Buffett's wealth evolution
As mentioned, the historical profitability of the investment portfolio of one of the greatest investors of all time is enviable. With an average financial return of 20% per year, Buffett was able to multiply the invested capital of his investors thousands of times, due to the effects of compound interest.
However, it was not just his investors who came out on top, after all, Warren himself invested almost all of his money in his favorite stocks on the stock exchange. In this way, the evolution of Warren Buffett's equity also becomes impressive.
Warren Buffett biography
To get to know better who he is, investors should know a little more about Warren Buffett's biography. Thus, it is easier to understand some points of his history and the paths that led him to be one of the greatest stock market investors of all time.
Born in Omaha, Nebraska, United States, on August 30, 1930, Warren Edward Buffett was the only male born among the three children of the couple Leila and Howard Buffett (Buffett's parents). The children were: Doris, Bertie and, of course, Warren.
His father — who was a stockbroker — was one of the main pillars that ignited the investor's curiosity about investments, a flame that motivated him to work to earn and save money from an early age.
Among the occupations he had in search of capital in his youth, in addition to performing paid work in his grandfather's candy store, Buffett used to sell products door to door, such as candies and Coca-Cola. Furthermore, he also used to deliver newspapers and magazines from house to house.
At one point, he and a friend from school came up with the idea of ​​investing 25 dollars to buy a pinball machine and put it in a cafeteria in the city. Soon after, they owned dozens of machines throughout Omaha.
His aptitude, interest and affinity with investments came to fruition at the age of 11, when, on a trip to New York, Buffett would have bought his first batch of shares on the stock exchange, which he shared with one of his sisters.
Warren Buffett's Education
In the search for inspiration, many wonder about Warren Buffett's academic background. In this sense, it should be noted that his first achievement in this area was his Business Administration degree.
Buffett began his studies in higher education when he was 17 years old, in 1947, at the University of Pennsylvania, located in the city of Philadelphia. However, shortly after joining that faculty, he transferred to the University of Nebraska-Lincoln, graduating in 1950 as an Administrator.
Furthermore, in 1951 Warren Buffett received a master's degree in economics, shortly before marrying his first wife, Susan Buffett Thompson, which happened in 1952. Finally, it is necessary to recognize that the investor still has the degree from the New York Institute of Finance.
Warren Buffett and Benjamin Graham
Like most of the great figures in different areas of activity, Buffett also had someone to look up to, and it was in the figure of Benjamin Graham that he found the mentorship necessary to reach the heights he conquered.
After having attended two years at the University of Pennsylvania and having dropped out of school, Buffett tried to enter Harvard, where he was unsuccessful due to his young age. Thus, destiny took him to Columbia University, where he had contact with the one who would become his main reference, Benjamin Graham.
At the age of 21, around 1951, Buffett went to accompany Graham in his company, this time as an employee, after a lot of effort to win the job. The company in question was Geico, which years later would be bought by Berkshire Hathaway (BERK34), its investment holding company.
Furthermore, the relationship between Warren Buffett and Benjamin Graham did not stop there. This is because the two investors even worked together at Graham-Newman Corp, where Buffett was an equity analyst.
Many say that the relationship between Warren Buffett and Benjamin Graham was a crucial factor in the investor's success. That's because, despite his natural vocation, Buffett's initial trajectory was inspired and, in a way, guided by the idol.
This demonstrates that even the greatest of all investors started small, like anyone else, and had the necessary humility to be able to learn from those who clearly had more knowledge and authority on the subject at the time.
Buffett's other influences
In addition to Benjamin Graham's influence on Warren Buffett's life and career, other investors and professionals were able to influence his performance as an investor. In this sense, the relationship with Bill Gates, founder of Microsoft, was responsible for his greater contact with technology companies.
Yet another early influence was Philip Arthur Fisher, better known as Fisher. For this investor, it was not enough for a company to be undervalued to be attractive as an investment. For that, the company should still have good fundamentals.
This means that the so-called "Cigar Butts", that is, bad companies, but with attractive prices, would not be the only investment opportunities. In fact, large, market-leading companies with good fundamentals, while not often undervalued, could still be good bets.
This shift in investment mindset by Buffett—who early on was relentlessly looking for Cigar Butts—undoubtedly has Fisher's influence. Without this, perhaps the investor would not become a shareholder in large companies such as Apple, Disney and Coca Cola.
Berkshire Hathaway
In Buffett's life, the history with Berkshire Hathaway is a big milestone. Since the 1960s, in addition to being an investor, Warren has also been the CEO of Berkshire Hathaway, a company that oversees and manages a wide range of other subsidiary companies in various sectors.
Before being a holding company, the company was a textile company with origins in 1839. After more than 100 years of existence, in the 60s, the company appeared in Buffett's life as an investment opportunity. However, this opportunity ended up causing major conflicts for the investor with the Stanton family.
Buffett's clashes with the Stantons caused him to make one of the biggest mistakes of his career as an investor. That is, let his emotions and personal conflicts interfere with his decision-making as an investor and make him buy Berkshire stock to take control of the Stanton company.
The attitude ended up being costly and, to always remember his mistake, Buffett turned the company into an investment conglomerate. Thus, Berkshire Hathaway started to accompany him for decades on his journey as an investor.
Berkshire Hathaway Today
Despite having been a textile company for more than a century, as has been said, Berkshire Hathaway is currently an investment holding company that has Warren Buffett as one of its main shareholders.
As the company's controller, the investor began diversifying investments in companies in the insurance sector. The first being the National Indemnity Company and later GEICO, where he worked with Benjamin Graham.
These insurance operations were essential to bring financial liquidity to Berkshire and make other investments possible. That's because, with the fluctuating resource of insurance premiums, Buffett was able, like no one else, to generate a lot of value with his investments in other sectors.
Thus, the investor began to invest and generate value for shareholders in other branches of the economy. Among them, in the candy industry, vacuum cleaners, home furnishings, encyclopedias, jewelry sales, newspapers, stores, batteries, uniform manufacturing and distribution, as well as various gas, electric power and railway utilities.
More recently, in 2016, Buffett started a major investment in the technology sector, with Apple stock. After several contributions, the percentage of the company in Berkshire's portfolio was close to 50%. It is no wonder that the investor has already stated several times that Apple is the best company in the world.
It should also be noted that Berkshire has other key figures who participated and still participate in management and in the results obtained. Among these personalities, the company's vice president, Charlie Munger, and billionaire Bill Gates, both personal friends of Buffett.
Berkshire Hathaway Portfolio
In searching for Warren Buffett's stock portfolio, investors come to realize that the best way to find out what investor bets are is by looking at Berkshire Hathaway's portfolio.
After all, it is not possible to know, except in certain circumstances, what Warren Buffett's companies would be through his natural person. However, the billionaire does not usually make investments this way.
In reality, most of Warren Buffett's wealth and investments are concentrated in one single stock. At Berkshire Hathaway, that is. After all, it is through it that the investor manages his resources, investing and withdrawing assets through the holding company.
So, to know which companies the Oracle of Omaha invests in, you need to look at Berkshire Hathaway's investment portfolio. Below, some of the main positions of the company:
Apple;
Bank of America;
Moodys Corporation;
Coca Cola company;
American Express;
MasterCard;
Visa Inc;
Kraft Heinz Corporation;
General Motors Corporation;
Warren Buffett's Investment Strategy
Knowing a little more about his success, many investors are curious to know the supposed secret formula of Warren Buffett's investment strategy. However, it should be noted that this methodology is neither secret nor difficult.
In this sense, contrary to what one might imagine, Warren Buffett's investment decision methods are not so complex. In fact, they can be used by anyone who has a basic notion of primary principles of financial mathematics.
As an investor, Buffett is an active practitioner of the so-called Value Investing , an investment modality whose main characteristic is the long-term association of investors with high-value companies, but whose shares are currently traded at prices below what they really are. worth.
In other words, the purpose of Value Investing — or value investing — is to find shares on the stock exchange that are priced below value. That is, that they are trading at a price below what they should value, taking into account fundamentalist criteria.
Several characteristics are directly associated with Value Investing, and consequently become useful for Buffett's investments. However, certainly, the most significant are the margin of safety and the patience factor.
It is no wonder that the Oracle of Omaha is a living example of how successful an investor's journey can be when weighing and the long term are used consistently in their applications.
Combining this patience and focus on the long term, Buffett was able to practice not only value investing, acquiring companies considered cheap, but also Buy and Hold. Since this strategy has been practiced by keeping shares in its portfolio for long periods of time
Philanthropy
There is no way to talk about Warren Buffett without mentioning his relevance to world philanthropy. This is because, along with his personal friend and partner Bill Gates, the investor became one of the greatest philanthropists of all time.
In 2006, the already billionaire declared that he would donate more than 99% of his net worth (PL), basically made up of shares in the Berkshire Hathaway holding company. At the time, he owned 474,998 Class A shares of the company, those with the stock ticker "BRK.A".
To give you an idea, this amount of shares would have already made Buffett reach the mark of 200 billion dollars in equity. However, since the 2006 pledge, the megainvestor has frequently donated his shares to foundations.
In that sense, in June 2021, Buffett reached the 50% mark of his promise. After all, after a donation of 4.1 billion dollars in "BRK.A" shares, the investor now holds 238,624 shares, practically half of what he had when he made the promise.
It is worth noting, however, that for much of his adult life Buffett was resistant to donations. This is because, according to him, it would make more sense for the resources to remain with him, being multiplied, so that in the future it would be possible to make even more voluminous donations.
In fact, that's what happened. This is because, if the donations had been made in the past, the value that the foundations would have would not have been able to impact as many people as it can today. That is, after the exponential appreciation of shares over time.
Finally, it is also necessary to highlight some of the foundations that the North American mega-investor has a relationship with.
Buffett foundation
With a large amount of Berkshire Hathaway class A stock to donate, Buffet distributes his acts of philanthropy among a number of foundations. In these acts, the Buffett Foundation and the Gates Foundation were the most benefited, due to the investor's relationship with them.
In the case of the Buffett Foundation, the investor's children ended up taking on philanthropic roles, managing the allocation of donated funds. In this sense, one of his daughters, Susan, owns the "Susan Thompson Buffett Foundation", while his son Howard owns the "Howard G. Buffett Foundation".
In addition to these two, it is impossible not to give due prominence to the Gates Foundation. This is because, due to Warren's proximity and personal relationship with Bill Gates and Melinda Gates, the investor ended up allocating a large part of his donations to the foundation of the former Microsoft couple.
Facts about Warren Buffett
In the search for more information about the investor, it is impossible not to know some of the curiosities about Warren Buffett. Some of these curiosities are even detailed in his biography in the book "A Bola de Neve", written by Alice Schroeder.
In addition, Warren Buffett's documentary, called "Becoming Warren Buffett" also shows very well some of the particularities about life and the day-to-day of an investor.
Below are some of the main curiosities about Buffett:
Warren Buffett's personal life
Warren Buffett's personal life is undoubtedly a great story that an investor could tell, in addition to so many that he certainly has about his companies and investments.
More commonly, the investor was married in 1952, when he was just over 20, to Susan Buffett Thompson. From this marriage, their three children were born, "Susie", "Howie" and "Peter".
One of Susan's great contributions was the awakening she did in Buffett about philanthropy, which turned out to be one of his biggest concerns later in life. In addition, Buffett and Susan have always had a very open and friendly relationship.
This openness was so great that, when Susan was still alive, Buffett was in a relationship with his future second wife, Astrid Menks, whom he married in 2006. Although unusual, the three got along very well in this relationship, which lasted several years.
Warren Buffett's Inheritance
Due to his large net worth, one curiosity that people often have concerns Warren Buffett's heritage. After all, who would be lucky to inherit one of the greatest fortunes of today?
The answer to that is that millions of people will inherit the funds, as in 2006 Buffett pledged to give away 99% of his fortune. If confirmed, this act could be the greatest philanthropic gesture in human history.
In addition, Buffett often claims that he will leave his children with "the necessary money to do what they want, but not enough money to do nothing". This makes clear the entrepreneurial and resource-multiplying nature of his life.
Warren Buffett's Reading Habit
Another curiosity that inspires investors concerns Warren Buffett's reading habits. The Oracle of Omaha has stated that early in his career as an investor he used to read 600 to 1,000 pages a day.
Even today, the megainvestor claims to spend 80% of his day reading. He adds: "You see, my job is basically to accumulate more and more facts and information, and see if they eventually lead me somewhere."
But his words don't stop there. According to Buffett: "We should not read the opinion of others. We want to go straight to the facts and think about them", he said, referring to reading the balance sheets and results released by the companies in which he is interested in participating as a shareholder.
Among one of the book suggestions made by him is the book "The Intelligent Investor", written by his mentor Benjamin Graham. To get an idea of ​​the relevance of the work, Buffett even said that the book would be "by far, the best book on investments ever written".
Another work by Graham, co-authored by David Dodd, was the book "Securitization Analysis", better known in English as "Security Analysis". This was another work Buffett read early in his career.
Finally, the works of Dale Carnegie were also described by the investor as great inspirations. Among them, the well-known book "How to Win Friends and Influence People", which was read by Buffett in his teens.
Warren Buffett's Simplicity
There is no way not to mention the simplicity of Warren Buffett as well. This is because, despite having a considerable fortune since young adulthood, the investor has never had or squandered luxuries, such as mansions, sports cars, leisure trips and the like.
Even after joining the list of the richest in the world, Buffett maintained the habits of a middle-class American. To give you an idea, the billionaire investor has the habit of having coffee at McDonald's and choosing the promotion of the day, to save a few cents on the dollar, which is demonstrated in his documentary.
Incredibly, despite the billionaire fortune he has, Buffett still lives in the same house in the city of Omaha acquired more than 50 years ago for U$ 30 thousand dollars. In addition, he still drives his own car and insists on buying used vehicles to save money.
FAQs
How to contact Warren Buffett?
To get in touch with Warren Buffett, investors often send letters to the mega-investor at his home or at the headquarters of Berkshire Hathaway. Another way to contact him is by attending Berkshire's annual meetings, which take place in the city of Omaha, in the state of Nebraska, in the United States.
What is Warren Buffett's profession?
Warren Buffett's current profession is that of a professional investor, as the billionaire has been responsible for decades for managing the investments of the Berkshire Hathaway holding company. 
In addition, the investor has a degree in management and a master's degree in economics.
How old is Warren Buffett?
Warren Buffett's age is 93 years old. As the investor was born on August 30, 1930, it is easy to find out his age. 
What stocks does Warren Buffett invest in?
The stocks that Warren Buffett invests in change over time, according to the purchases and sales made by the investor. Some of the stocks that Warren Buffett invests in are: Apple, Bank of America, Cola Cola and American Express.
So, did you manage to learn a little more about the life and trajectory of Warren Buffett? Leave your comments about this North American mega-investor below.