The 10 Best Universities In Africa [2023 Ranking]
Do you care to know the best Universities in Africa? The Best University In Africa in 2023 is the University of Cape Town which comes on the 264th in the world ranking.
There are numerous higher schools of learning scattered across the 54 countries in the continent of Africa and from among which we have compiled the universities that are deemed to be the best in the continent after careful consideration based on the university's performances and research activities.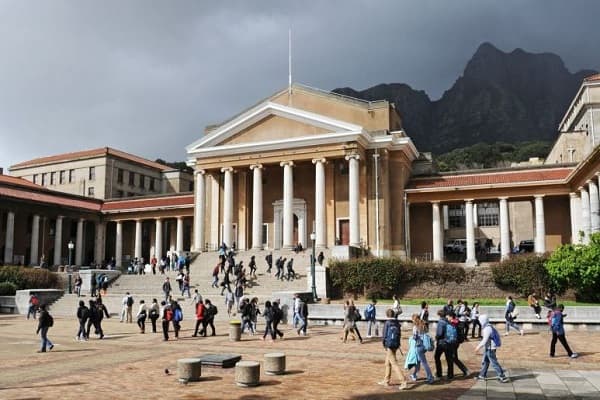 Of a fact, University of Cape Town is the Best University in Africa all the way from 2018, 2019, 2020, and 2022.
Here in this Article, we will be writing extensively if you want to know any of the below commonly asked questions;
What Is The Number 1 University In Africa?
What Are The Best 10 Universities In Africa?
Which University Is Ranked First In Africa?
Best University In East Africa
Best Schools In Africa
Best Universities In Africa For Medicine
Read Also: The 10 Most Beautiful Cities In Africa – Updated
Read through the article to get more information about the universities that will be enlisted in this article.
Top 10 Best Universities In Africa 2023 Ranking
These are the Top African Best Universities, to learn more about these institutions, read about each of them below.
#1. University Of Cape Town
Occupying the first spot on our list of Best Universities in Africa 2023 Ranking is the University of Cape Town in South Africa. The university is the oldest university in South Africa and the second oldest in Africa having been established two years after the University of Serra Leone.
The university is a highly intensive research institution that encourages creativity through excellent academic programs.
Also, the location of this university makes it a top favorite for aspiring students because it is been established at the bottom of Table Mountain's Devil's Peak.
The institution has a student enrollment of over 25,000 and a large number of qualified and expert tutors that is around 5000.
#2. University Of Witwatersrand
The University of Witwatersrand commonly called the Wits University comes next on our ranking of Best Universities in Africa and it occupies the second spot.
The institution is a multi-campus public research university known to offer a large variety of undergraduate and postgraduates programs and degrees that are internationally recognized.
Wits University is made up of five schools that also serve as home to student residences, including female-only dorms, and academic departments.
The institution comprises 5 faculties which are commerce, engineering, and the built environment, health sciences, law and management, science, and humanities.
Also, it is one of the schools highly revered for its medical training which is done through the Wits Donald Gordon Medical Centre.
#3. Stellenbosch University
Just in South Africa, we have the first 3 Best Universities in Africa. Stellenbosch University a public research university rated among the best higher institutions in Africa.
Interestingly, this university is not too distal from Cape Town where the overall best university in Africa and South Africa is established.
The institution has a global reputation as it is consistently ranked among the top 200 higher schools of learning in the world in law, politics, and geography. Equally, it is ranked among the top 100 universities in the world in development studies, theology, agriculture, and forestry.
The university comprises four campuses where 150 academic departments are designed within its 10 faculties, and many other research centers are carried out.
#4. Covenant University
Still, on the ranking of Africa's best universities, we have Covenant university located in Nigeria. This academic institution is a private Christian university affiliated with Living Faith Church Worldwide.
The university has consistently been ranked as the best private higher academic institution in Nigeria because of its fast academic growth which also has placed it on the list of top higher schools of learning in Africa.
Covenant University has four colleges: the College of Business and Social Sciences; the College of Leadership and Development Studies; the College of Engineering, and the College of Science and Technology.
#5. Aswan University
Taking us further in our discussion is Aswan University in Egypt which was established initially in 1976 as a branch of Assuit University and by 2012 the institution was established as an independent institution.
Since then the institution has grown to be one of the best higher schools of learning in the continent. The university is dedicated to providing cohesive care programs for its students, such as housing, study, and recreational facilities.
Aswan University is comprised of quite a several dedicated research facilities for the study of plants and animals, science labs, and industrial centers among other infrastructures available in the school.
#6. University Of KwaZulu Natal
Next on our list is the University of KwaZulu Natal, a teaching and research-led university considered as one of the best Africa Uni.
The university came into existence in the year 2004 as a result of the merger between the University of Natal and the University of Durban-Westville. The university is known for its research productivity, especially in areas like natural, biomedical, humanities, and social sciences.
The University of KwaZulu Natal has a reputation for excellent innovative curricula, dynamic teaching and learning, cutting-edge art laboratories, and accredited professional degrees.
#7. Mansoura University
Coming in next on the list is the Mansoura University in Egypt, the university is one of the biggest higher schools of learning in the country and is known to have contributed much to the cultural and scientific life in the city of Mansoura.
The institution is comprised of 18 faculties, three large accommodation complexes, a student hospital, an array of restaurants, a dining hall, and a state-of-the-art sports complex.
However, the Faculty of Arts, the Faculty of Special Education, the Faculty of Tourism and Hotels, and the Faculty of Kindergartens are located off-campus.
Also, the university is renowned for its medical facilities, owning nine major hospitals and medical centers including a children's hospital, a Medical Experimental Research Centre (MERC), and a Urology and Nephrology Centre.
Read Also: 50 Most Valuable Companies In Africa – (Updated List)
#8. University Of Ibadan
Going back to Nigeria where we have the next line of the top university in Africa and that is the University of Ibadan.
University of Ibadan did not come only on the list of Best universities in Africa but as well the second Best Universities In African to study Medicine.
It was established in the Southwestern part of Nigeria. The university is the oldest higher school of learning in Nigeria and it was initially affiliated to the College of the University of London but was granted full independent status in 1962.
Thirteen faculties make up this institution including Agriculture and Forestry, Education, Social Sciences, Veterinary Medicine, Technology, Law, Public Health, and Dentistry.
The University of Ibadan offers both undergraduate and graduate programs as well as a well-structured Distance Learning Centre for those who do not have easy access to education.
The university also boasts of its own zoological and botanical gardens and it owns some public facilities, including a media resource center.
#9. North-West University
We head over to South Africa again where the ninth institution of higher learning is located and that is the Northwest University.
The university's main campus is established in Potchefstroom with two other campuses in Mahikeng and Vanderbijlpark. The university is ranked as the second-largest university in South Africa with a student enrollment of about 68,000 students.
The university is home to eight faculties as well as five Research Centres of Excellence include the Centre for Space Research while the 10 research units which include tourism and reformation theology.
#10. Suez Canal University
Last on our list is the Suez Canal University, one of the consistently ranked higher schools of learning among them coming in at the number tenth spot.
The university is well known and popular for its non-traditional research and it comprises 48 faculties that are established in the three governorates of the Suez Canal Region which are in Ismailia, Suez, Port Said, and El-Arish.
The school has a student enrollment of over 20,000 who study for their bachelor's, master's, and doctoral degree programs respectively.
Best Universities In East Africa
Following are the best universities in East Africa, which has proven to turn out quality students over the year consistently;
Makerere University in Uganda
University of Nairobi
University of Dar Es Salam in Tanzania
Egerton University in Kenya
University of Dodoma Tanzania
Kenyatta University in Kenya
University of Rwanda
Strathmore University in Kenya
University of Khartoum in South Sudan
Uganda Christian University in Uganda
Top 10 Best Universities In South Africa
On the list of Top Best Universities in South Africa 2023, we have the following universities that made it to the list, this rating is based on Forbes ranking and listing.
University of Cape Town
University of the Witwatersrand
University of Pretoria
Stellenbosch University
University of Johannesburg
University of KwaZulu-Natal
Rhodes University
University of the Western Cape
North-West University
University of the Free State
Best Universities In Africa For Medicine
If you wish to study Medicine in Africa, we have helped compile the list of Best Universities to study medicine and surgery in Africa, they are;
Makerere University Uganda
University of Ghana
University of Nairobi Kenya
University of Ibadan Nigeria
University of Botswana
University of Lagos Nigeria
University of Dar es Salaam Tanzania
Ashesi University College Ghana
University of Addis Ababa Ethiopia
University Cheikh Anta Diop (Dakar University) Senegal
Read Also: Top 5 Public Universities in the United States
Conclusion
I believe you are now aware of the best Universities in Africa ranking these universities are known to offer excellent and quality educational programs that brighten and prepare students to excel in their respective courses of study.