Full Biography Of Richard Mofe-Damijo (RMD) & Net Worth: [Nollywood Actor]
RMD a.k.a Richard Mofe-Damijo is a Nollywood icon with sauce, here is the full biography of RMD, his net worth, age, career, wife, children, family and all you need to know about the Nollywood veteran actor.
The majority of Nigerian movie lovers know RMD well enough, he has been gracing our TV with his top-notch performance and is one of the best Nollywood actors in Nigeria. He knows his onions well and do not need to be told how to do things as he is the master of acting. Born to act.
As a handsome man, he is the ladies' favorite coupled with his skills and talent even men, women, teens and children love to see him appear in movies and weekly soap operas.
There is no doubt, Richard Mofe-Damijo is an A-List actor and has featured in hundreds of movies both in Nigeria and in Africa. He is a living legend and a thespian star with numerous awards.
Without further ado, let us quickly run a brief profile of Richard Mofe-Damijo (RMD). Below is the brief biography of RMD.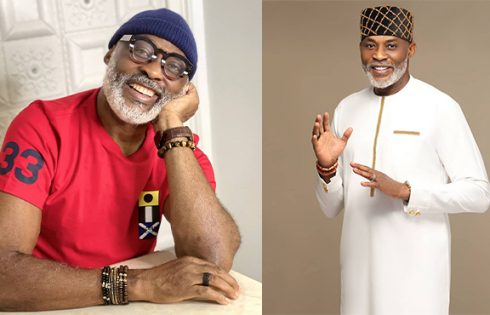 Richard Mofe-Damijo Profile
| | |
| --- | --- |
| Full Name: | Richard Eyimofe Evans Mofe-Damijo |
| Nickname: | RMD |
| Date of Birth: | 6th of July, 1961 |
| Place of Birth: | Aladja, Delta State |
| Nationality: | Nigerian |
| Education: | University of Benin (Theatre Art) & University of Lagos (Law) |
| Married to: | May Ellen-Ezekiel (late), Jumobi Adegbesan |
| Children: | 5 |
| Occupation: | Actor, writer, movie producer, and a lawyer |
| Net worth: | $7 million |
Now that you know little about him, we urge you to read the full biography and net worth of Richard Mofe-Damijo so as to know more about the movie thespian.
Early Life
Richard Eyimofe Evans Mofe-Damijo was born on the 6th of July 1961 in Delta State, Aladja to be precise, a community in Udu Kingdom very close to Warri Delta State a South-Southern region of Nigeria.
He had his basic education and then his secondary school education at Midwest College and also at Anglican Grammar School, when he was in Anglican Grammar school he joined a drama group.
His love for acting made him choose acting as a career path, he then attended the University of Benin where he studied Theatre Arts and then obtained his bachelor's degree.
In 1997, Richard Mofe-Damijo (RMD) proceeded to the University of Lagos (UNILAG) to study Law, he did well and graduated in 2004, he was loaded with everything he needs to start life elegantly.
Career
As mentioned earlier, Richard Mofe-Damijo started his acting career from secondary school, but his career in acting officially kickstart in the late 80s where he starred in the soap opera titled "Ripples", the series brought him into the limelight.
Though at the early stage of his career he has worked as a reporter for Metro Magazine, The Guardian and Concord Newspaper before delving into full-time professional acting.
RMD first movie that was produced by him is "Out of bounds" and the movie gained popularity and showcased him more.
As an A-list actor, RMD has been on set with a lot of Nollywood veterans, the likes of Zack Orji, Stella Damasus- Aboderin, Chioma Chukwuka, Liz Benson, Sola Sobowale, Bukky Ajayi, Bimbo Akintola and many more.
His performance in "Diamond Ring" was exceptional and he was able to work with big wig directors and producers like Tade Ogidan, Tunde Kelani and many more.
RMD also had a blockbuster movie with the comedy king AY Makun on the project titled "30 Days In Atlanta" where he acted as Kimberley's father with other top list actors like Ramsey Nouah and Mercy Johnson which became the highest-grossing movies of all time in the Nigerian cinema.
He is also into politics and his political career pans for some years, he was also appointed the Special Adviser of Culture and Tourism in 2008 to the then Governor of Delta State Governor Emmanuel Uduaghan. He later became the Commissioner for Culture and Tourism in 2009 and it was perceived that he made good money while discharging his duties and at the same time he met people that matters in the country.
Relationship & Family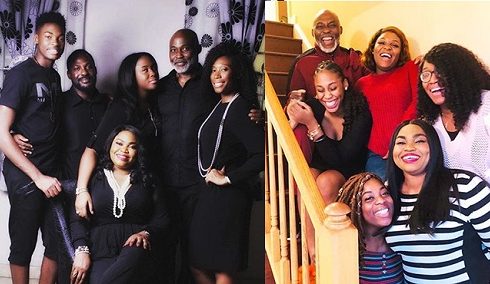 Richard Mofe-Damijo got married to his first wife May Ellen-Ezekiel (MEE) who is now late due to complications while being operated for fibroid in a Lagos hospital in 1996, she was a journalist/publisher and their union was blessed with two children.
After the death of his wife, RMD got married to Jumobi Adegbesan who is a TV personality in the year 2000, his union with Jumobi Adegbeson got blessed with three children.
He had three sons and two daughters and he is also a grandfather with cute grandchildren.
Read Also: Meet Jumobi Adegbesan [RMD Wife]: Bio, Net Worth, Age & Facts
Awards & Recognition
As a talented actor and a hardworking one, it is respected that his shelf will be filled up with awards and also RMD biography will not make sense without listing his awards so below is the list of Richard Mofe-Damijo awards.
Best Actor in a Leading Role, Africa Movie Academy Awards, 2005
Best of Nollywood Awards – Special Recognition Award, 2012
Africa Movie Academy Awards – Lifetime Achievement Award, 2016
Africa Movie Academy Awards – Overall Best Actor in a Leading Role, in the movie Cross Road, 2018
He also had a lot of nominations and also got himself some ambassadorial deals with top brands and also real estate companies.
Filmography
Below is the list of movies RMD acted in:
Out of Bounds, 1997
Hostages, 1997
Diamond Ring, 1998
Scores to Settle, 1998
Freedom, 1999
Love, 2003
Keeping Faith: Is That Love, 2003
When God Says Yes, 2003
Romantic Attraction, 2003
Emotional Pain, 2003
The Intruder, 2003
I Will Die For You, 2003
The Legend, 2004
I want Your Wife, 2004
The Mayors, 2004
True Romance, 2004
Burning Desire, 2004
Critical Assignment, 2004
Indecent Act, 2004
Engagement Night, 2004
Critical Decision, 2004
Behind Closed Doors, 2005
The Bridesmaid, 2005
Darkest Night, 2005
Welcome to Nollywood, 2007
30 Days in Atlanta, 2014
Oloibiri, 2015
Okafor's Law, 2016
The Grudge, 2016
Hush, 2016- 2017
Dinner, 2016
The Wedding Party, 2016
Three Wise Men, 2016
10 days in Sun City, 2017
The Wedding Party 2, 2017
I Love My Wife Even After Death, 2017
Boxing Day: A Day After Christmas, 2017
My God never fail me, 2018
God Calling, 2018
Chief Daddy, 2018
Merry Men: The Real Yoruba Demons, 2018
Cross Roads, 2018
The Hour, 2019
Castle And Castle, 2019
Blood And Oil, 2019
Most of the movies he starred on can also be found on top streaming platforms like Netflix.
Net Worth
Richard Mofe-Damijo's net worth is estimated to be around $7 million, he is one of the richest actors in Nigeria, and his earnings are attributed to his donkey years of working as an actor, income from politics and income from his White Water Limited company, RMD Production and also RMD Foundation.
If you enjoyed the biography of Richard Mofe-Damijo and his net worth kindly hit the share button to encourage us to do better, you can also make use of the comment box if you have any contribution.