Efex Transport Price List 2023 Updated: Terminals & Contacts
As one of the leading transport companies in Nigeria, there is a need to be aware of Efex Transport price list, Efex Transport terminals and every other necessary information concerning Efex Transport.
If all you seek is an affordable, dependable and safe transport company in Nigeria you definitely want to opt for Efex Transport which has over the years made a name and placed the company among the bigwig in the Nigerian transportation space.
The transport business is thriving heavily in all parts of the world and as we all know Nigeria is the largest black nation which means there will certainly be high demand for public transport than any other place in Africa.
With Nigeria in mind, there are many business opportunities and this spurs us to write about the top best investment opportunities in Nigeria of which the Nigerian transport institution is topping the list.
Checking through our previous article you find out we have a well-written review of all Nigeria transport companies which offers top-notch transportation services in Nigeria some of them are GUO transport, God is Good Motors, Young Shall Grow Motors, Peace Mass Transit, ABC Transport, Agofure Motors, Chisco Transport and many other popular transport companies in Nigeria.
Being an award-winning transport company in Nigeria the trust has been established over time and this is the reason why we advise you to try out Efex Transport, check below the full review of Efex Transport.
About Efex Transport
Starting from a one cab taxi to thousands of modern buses in fleets Efex Transport Company has over time tremendously expanded from Nigerian transport services to be one of West African best transport companies.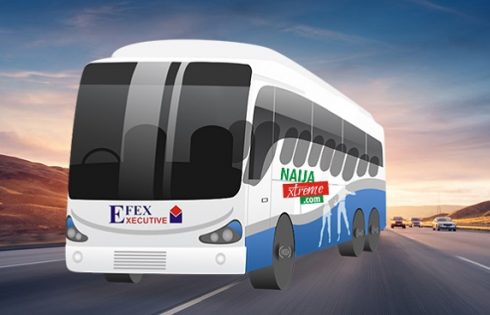 Efex Transport Price List | Efex Transport Terminals
Efex Transport is currently being managed by Engr. Isaac I. Uhunmwagho, the company was able to win the trust of travelers all over Nigeria and West Africa at large with their well-trained and humble staff, friendly drivers top-notch customer service relations and smooth service experience.
Efex Transport is currently well established in the following West African countries Nigeria, Togo, Benin Republic, Ghana and Ivory Coast.
The company has rules and regulations which has helped pushed their policy forward in making sure customer satisfaction is the top priority while continuing to offer quality services to their customers and improving on this every blessed day.
Benefits Of Using Efex Transport
You sure want to travel with a transport company that assures you of maximum security and comfort, Efex offers world-class standard transport services that can't be matched by others.
For a company that has been in the transport business for over 30 years then it is more than dependable, the company has been so consistent and here we have the reasons why you must travel with Efex Transport:
1. Standard Quality Buses
You will enjoy having a cool ride in a new tear-rubber bus not older than 3 years, all their buses are well managed and meet up to global standards. Well air-conditioned, designed for comfort and long journey. TV where you can watch music videos and other entertaining programs installed and also power outlets installed for charging of your mobile phones.
2. Qualified Drivers
One of the benefits you get when you patronize Efex transport is that you enjoy the service of well-educated and well-trained drivers. Efex Transport did a mandatory and proper interviewing of their drivers, the drivers are also trained and enrolled in continuous training for as long as they still work with Efex, they are equipped with both theoretical and on-road knowledge like the Dispatch procedures, how to relate with clients, vehicle safety, defensive driving techniques, maintenance and inspection.
3. Vehicle Tracker
On each and every fleet of Efex buses, there is a tracker installed. This allows the control room to monitor the route being plied by the bus and also suggest better routes to the driver.
4. Easy Booking
Efex just being a top transport brand leveraged on technology to fast-track their booking process, if you like to book a ticket it can be done within a minute through their official website, obtaining a ticket is much easier both online and via their terminals.
5. Accommodation
When enjoying long-distance travel with Efex Transport you do not need to worry about where to lodge, in every Efex park there are hotels where you can use with the help of Efex, you are allowed to arrive a day before the commencement of your journey in case you are far from the park.
Efex Transport Bus Variants
Sienna Cars
15 Seater Hummer Buses
30 Seater Civilian Buses
Luxury Bus 36 Seater
Efex Transport allows you to choose whichever one based on your journey, both have similar enjoyment and packages for customers.
Services Offered By Efex Transport
Aside from the normal conveyance of passengers and goods from one city to the other or from one state to the other Efex Transport also render other services. Below are the services rendered by Efex Transport:
EFEX Charter Service
Courier Service / Logistics
Hospitality Services
How To Book A Ticket Online With Efex Transport
Booking a ticket online is a smooth process that top transport companies leverage on, this allows them to deliver their services quickly without stress. You can book a ticket online with your laptop or mobile phone at any time and anywhere, there is also a quick booking for international trips like booking for Ghana, Togo and other African countries. Here is a step-by-step guide on how to book a ticket online:
Launch your browser and visit Efex Transport Official Website.
You will be greeted with a page and a form of which you are required to fill.
Choose "One Way Trip" or "Round Trip", "Departure Terminal, "Destination Terminal and "Departure Date" then click on "Book Trip".
The next page allows you to select a bus of your choice and also choose a seat.
Choose your payment option and pay with your ATM card.
After a successful payment, you will receive a payment confirmation which will be used to print your ticket.
Note: You are to make sure you keep the confirmation message safe as this will be used to print out your travel ticket.
For those traveling out of Nigeria, it is mandatory that you come along with your international passport, ID card as this will be checked by the Immigration officer.
Efex Transport Price List 2023
| | |
| --- | --- |
| From Lagos | |
| Route | Price |
| To Benin | ₦3,150 |
| To Cotonou (One Way Virgin Passport) | ₦16,200 |
| To Lome (ID Card) | ₦20,700 |
| To Accra (ID Card) | ₦16,650 |
| To Cotonou (One Way Regular Passport) | ₦14,400 |
| To Lome (Virgin Passport) | ₦18,000 |
| To Lome (Regular Passport) | ₦16,200 |
| From Benin | |
| To Accra (One Way ID card) | ₦27,000 |
| To Accra (One Way Regular Passport) | ₦22,950 |
| To Accra (Virgin Passport) | ₦24,300 |
| To Lagos | ₦3,150 |
| Asaba to Lagos | ₦3,150 |
| From Accra | |
| To Lagos (ID Card) | ₦20,700 |
| To Lagos (Regular Passport) | ₦16,200 |
| To Lagos (Virgin Passport) | ₦18,000 |
Note: The prices here are could change at any time based on different factors like a necessary reason by the company or economic influence. We urge you to always check via the payment form on their website to stay updated.
Efex Transport Terminals/Parks & Contact
| Terminals Name | Address | Contact |
| --- | --- | --- |
| Asaba Terminal (Delta) | Ibusa road, Koka Junction, Asaba, Delta | 08150466495 |
| Ikorodu | Unlimited Grace Plaza, 33, Sagamu Road, opposite Powa Market, Ikorodu, Lagos., Ikorodu, Lagos | 08150466525 |
| Ikotun | No. 1 Dalekon Road, Ikotun round-about, Ikotun, Lagos, Ikotun, Lagos | 08150466514 |
| Iyana-Ipaja Terminal (Lagos) | 174, Lagos Abeokuta Expressway, Iyana Ipaja, Iyana Ipaja, Lagos | 08150466496 |
| Iyaro Terminal (Edo) | 4, Urubi street, Iyaro Benin city. , Iyaro-benin, Edo | 08150466488 |
| Mile 2 | mile 2 general park , Amuwo-odofin, Lagos | 08150466515 |
| Mowe Terminal (Ogun) | Km 42, Ibadan Expressway Mowe Bus stop, Mowe-Ibafo, Ogun | 08150466491 |
| Ojodu Berger Terminal (Lagos) | Ojodu berger bustop, Ojodu Berger, Lagos | 08150466427 |
| Ojota Terminal (Lagos) | 416 Ikorodu Road, Ojota bus stop, Ojota, Lagos | 08150466519 |
| Owerri Terminal (Imo) | Egbu road, Bestway before relief junction, Owerri. , Owerri, Imo | 08150466478 |
| Ramat Terminal (Edo) | Ramat Park, Ikpoba Hill, Benin-city , Ramat-benin, Edo | 08150466486 |
| Umuahia | 2 Item street, Umuwaya road, Umuahia., Umuahia, Abia | 08035921515 |
| Uselu Terminal (Edo) | Efex 02, 96 Uselu-Lagos Road, Benin-city , Uselu-benin, Edo | 08150466487 |
| Yaba Terminal | 77/78 Murtala Mohammed Way, Yaba, Yaba, Lagos | 08150466512 |
| Accra Terminal (Ring Road, Ghana) | Ring Road express, silver cup Bustop, opposite Paloma hotel, Accra, Greater Accra | +233545567306 |
Efex Transport Company Head Office
Address: 77/78 Murtala Muhammed Way, Yaba, Lagos, Nigeria.
Opening Hours: 7:00 – 5:00 daily (Saturday and Sunday inclusive)
Website: efex.com.ng
Email: [email protected]
Hotline: 08023134121
Hotel Reservation: 08058679393
Ghana Desk
08077790262, 0807383002
Conclusion
Efex Transport is known for its selfless services, ensuring comfort and satisfaction and this is more than enough reason to patronize Efex Transport. As it stands travelling in Nigeria is a very stressful thing and if not well planned you might get home with body aches, this is why you need Efex Transport to avoid avoidable body aches.