Meet Jumobi Adegbesan [Richard Mofe Damijo Wife]: Bio, Net Worth, Age & Facts
Who is Jumobi Adegbesan? Jumobi Adegbesan is a Nigerian TV presenter and media personality. Most of Nigeria's top celebrities' spouses are not well known but once you are really into an artist you get to care about his family, who he or she is married to, and also to know their kids if there's any.
Jumobi Adegbesan is the wife of the popular Nollywood veteran Richard Mofe-Damijo (RMD), if you know this actor so well you will know he is a very handsome man and you tend to wonder who his wife is.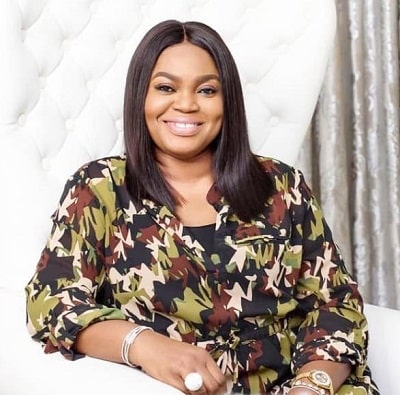 We have taken our time to bring you the complete information about Richard Mofe-Damijo's wife biography – Jumobi Adegbesan net worth, her family, kids, career, age, and other hidden information about her.
Without taking much of your time, let's take a quick glance at her profile:
Jumobi Adegbesan Profile
| | |
| --- | --- |
| Full Name: | Jumobi Adegbesan |
| Pet Name: | Adunmaradun, Aabike, Oluwaseunfunmi |
| Date of Birth: | 27th of January 1972 |
| Age: | 51 Years Old |
| Place of Birth: | Lagos |
| Nationality: | Nigerian |
| Spouse | Richard Mofe-Damijo |
| Occupation: | Television Presenter and Businesswoman |
| Net worth: | $150,000 |
Who is Jumobi Adegbesan?
Jumobi Adegbesan is a TV presenter and also a media personality, she started her career as a media personality and became known for her appearances while hosting the TV program "Lunch Break" on African Independent Television (AIT), as far back as the late '90s and early 2000s.
Eventually, she left presenting to pursue other interests. One of such goals was getting married to her longtime boyfriend, Richard Mofe Damijo, also known as RMD, a very popular Nollywood actor. Their marriage has been wonderful and blessed with four lovely children.
Read Also: Complete List of Nollywood Actors & Actresses – Updated List
Jumobi Adegbesan has been a successful woman in every aspect, and it is indeed an honor to provide this quantitative biography about her.
If you haven't met Jumobi Adegbesan before, now is your chance to do so as we walk through her biography and learn about her.
Jumobi Adegbesan Age
Currently, Jumobi is 50 years old. She was born on the 27th of January 1972 in Lagos, Nigeria. She's a very young and talented woman who has attained several heights of success in her career.
Career
After successfully completing her education, Jumobi Adegbesan was gainfully employed to Africa Independent Television (AIT) where she worked as a TV presenter.
She became popular as a TV host when she presented the show "Lunch Break" on African Independent Television (AIT) in the early '90s. Currently, she is married to the love of her life and blessed with four children.
She became a public figure when her show 'Launch Break' caught the heart of many Nigerians and Africans. This was a very popular TV show in the late 90s and early 2000s
Eventually, she left the organization to pursue business and personal interests. Part of her personal interest was getting married to her heart rob Richard Mofe Damijo popularly known as RMD who is an award-winning Nollywood actor.
According to our research and information from other reliable sources, her marriage, career, and business have been a blessing to date.
Personal Life
Jumobi Adegbesan, according to the information we have, enjoys tattoos. She has a butterfly tattoo, which can be seen in majority of her photos.
She appears to be the type of person who prefers to keep her personal life quiet. Jumobi believes that social media can harm marriages, which is why she avoids using it. As a result, Jumobi Adegbesan does not have an account on Instagram, Twitter, or any other social media platform. It explains why her photos are rarely seen in the media until her husband shares them.
Jumobi Adegbesan's Husband
Known as Mofe Damijo or RMD, Richard Mofe Damijo is a Nollywood actor, lawyer, and socialite. He was born on July 6, 1961. He is from the Aladija Community in the Udu Kingdom in Delta State.
In 2008, Mofe Damijo served as a special adviser for culture and tourism. In 2015, he became the state's commissioner for culture and tourism.
He earned a degree certificate in theatre arts from the University of Benin. In addition, he studied law after completing his studies at Uniben. In his opinion, this was due to him fulfilling his mother's wish to become a lawyer, even though she died before he completed his law degree.
It is obvious that RMD loves his family and wife, as he is obviously a family man. Mofe Damijo's second wife is Jumoke Adegbesan, as he was previously married to Mary Ellen Ezekiel, a prominent publisher, and journalist. In 1996, Mary Ellen Ezekiel died but had a child with RMD named Oghenekome. Oghenekome is now a grown man with a family of his own. Currently, Oghenekome has a daughter and a son, making RMD a grandfather. Read more about him below.
Read Also: Full Biography Of Richard Mofe-Damijo (RMD) & Net Worth
Marriage Life
In case you don't know, Jumobi is RMD's second wife. Richard Mofe-Damijo was married to May Ellen-Ezekiel (MEE), a Nigerian journalist and publisher. Following her death in 1996, he remarried TV personality Jumobi Adegbesan on December 29th, 2000, after dating for about three years.
Jumobi and RMD are deeply close to each other and have deep feelings for one another. In 2020, RMD posted a picture of his wedding anniversary with Jumobi to his Instagram account. The Nollywood ace actor says Jumobi is quite the comedian who makes him laugh even after 20 years of friendship.
The Controversy
RMD, Jumbo's spouse, was recently accused of having an affair with a young woman, but the actor has since dispelled the allegations on Twitter.
There was also a rumor that RMD held land in Asaba, Delta, worth N250 million. The actor was enraged by the news and threatened to sue Linda Ikeji, the blogger who broke the story. However, it appears that the two have buried their differences. RMD thanked the blogger for her work in an Instagram post he uploaded a few months ago.
Jumobi Adegbesan Net Worth
The net worth of Jumobi Adegbesan-Damijo is estimated to be $150,000. She is the wife of an ace Nollywood actor, Richard Mofe-Damijo, and a former TV personality.
Facts About Jumobi Adegbesan
Here are a few interesting facts about Jumobi Adegbesan.
– Her birthdays are special to her.
Jumobi was born on January 27th, 1972. Early this year, her husband posted on Facebook and Instagram a romantic picture to commemorate her 45th birthday.
– She has a lot of pet names.
Whenever he celebrates her on social media, RMD calls her by her many pet names. Among the names he calls her are:
Adunmaradun: meaning shining black beauty or ebony
Aabike: meaning the one to be taken care of
Oluwaseunfunmi: meaning God made her for me.
– She loves tattoos.
Jumoke seems to have a thing for tattoos. A few of her social media pictures have revealed her tattoo, though she rarely shows it in public. One of her breasts bears a butterfly tattoo.
– She loves to celebrate her wedding anniversary.
Jumobi and RMD celebrated their 21st year anniversary in 2021, and RMD shared a romantic note to his wife on social media.
His post was full of encomiums as he waxed lyrically about his love for Jumobi and how her love and support had propelled him to great heights.
Social Media
In the world of celebrities, Jumobi is undoubtedly the one person who hates and avoids social media the most. It is almost as if she has no digital footprint anywhere since she stays away from social media! According to RMD, the former media personality decided to stay away from social media in order to keep her marriage and home away from prying eyes.
Final Thoughts
On countless occasions, RMD has uploaded her pictures, showering her with praise and love. While his wife is rarely seen on social media, he spends the majority of his time doing so, which prevents the public from seeing into their marriage. Oh well! They are doing well.
Read Also: Meet Tade Ogidan – Bio, Net Worth & Facts [Nollywood Film Maker]
FAQs
Who is Jumobi Adegbesan?
Jumobi Adegbesan is the legal wife to the popular Nollywood Actor, Richard Mofe-Damijo
Is Jumobi Adegbesan a TV Host?
Before leaving the media organization to pursue entrepreneurial interests, Jumobi worked as a presenter for Africa Independent Television. In the 1990s, she hosted the popular lunchtime show Lunch Break.
How Old is Jumobi Adegbesan?
Jumobi Adegbesan is 50 years of age and was born on 27th January, 1972.
Is Jumobi Adegbesan on any Social Media Platform?
No. Jumobi Adegbesan has chosen to stay away from social media in order to protect her marriage.