Esther Igbekele Net Worth 2023: Bio, Career, Ministry & Family
Esther Igbekele is a force to reckon with as far as gospel music is concerned in Nigeria, she is one of the most successful gospel singers in the country and her ministry is no doubt backed by Holy Spirit. For a talented and anointed singer Esther Igbekele is, some details are hidden about her which will be revealed in this article.
In this article, you will know about Esther Igbekele current net worth, her full biography, songs, family and every necessary detail you need to know about her.
Nigerian gospel music is one of the best in Africa, one of the most respected, most streamed and most download, this sends the signal that Nigerian gospel musicians are on top of their game.
Singing gospel songs can only be inspirational when you have the support of the Holy Spirit, this will make you spirit-filled and also you listeners, we can attest to this that the most serious musicians about Gods work are the ones topping the list in the Gospel genre so it is of great importance for every gospel musicians and upcoming gospel musicians to be closer to Almighty God.
We have some wonderful gospel musicians in Nigeria who are doing excellently fine but today we focus on Esther Igbekele who has been one of the Best Gospel musicians from the Yoruba extraction.
Before going deep into Esther Igbekele's biography and net worth, we will like you to take a glance at her profile, below is Esther Igbekele's profile information.
Esther Igbekele Profile
| | |
| --- | --- |
| Full Name: | Esther Igbekele Oluwabumilola |
| Popular Name: | Esther Igbekele |
| Date of Birth: | 16th of August |
| Place of Birth: | Lagos State (Orile, Ajegunle) |
| State of Origin: | Ondo State (Ifon) |
| Nationality: | Nigerian |
| Marital Status | Married |
| Occupation: | Gospel musician |
| Net worth: | $150,000 |
Now that you know little about Esther Igbekele let us go straight into the full biography of Esther Igbekele.
Early Profile
Esther Igbekele was born on the 16th of August into a religious family in Orile, Ajegunle in Lagos State Nigeria, her state of origin is Ondo State Ifon to be precise (Ose local government of Ondo state) and she is from the Yoruba ethnicity in South-Western region of Nigeria.
She spent her kid and teen days in Lagos state, though her father is from Ondo state but her mother is an Awori from Lagos state, Esther has four other siblings all boys.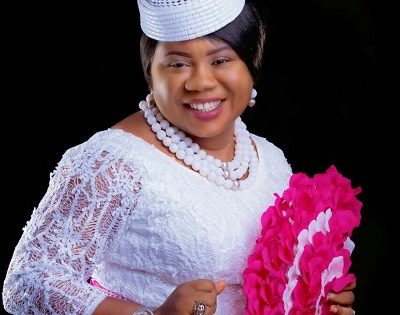 Her father was a tailor and her mom a food seller, they both gave her fatherly and motherly support making sure all she needs to keep going was provided in terms of financial support, educational support and also shaping her for her future career.
Esther Igbekele developed an interest in singing from her kid days, she was inspired by her parents as they were very active in church as her father was a Choir Master in CAC (Christ Apostolic Church), this really helped her accelerate at a very high pace in the music space.
During a crusade Apostle J. A Bankole discovered she is a talented singer and this lead him to sponsor her secondary school education, Esther Igbekele had to move to Iju-Ishaga in Agege to be with Apostle Bankole's family.
Read Also: Top 10 Record Labels In Nigeria And Their Owners
Education
Esther Igbekele is well educated, she had her basic primary school education at Central Primary School, Orile, Iganmu in Lagos State Nigeria, after that she proceeded with her Secondary School education at Lagos African Church Grammar School, Ifako Ijaiye also in Lagos State.
After obtaining her first school leaving certificate, Esther Igbekele proceeded to study some special courses in various Universities before diving into full-time gospel music as her profession.
Music Career
As stated earlier, Esther Igbekele was born into a very strong Christian family, her father was a Corinster and she started singing when she joined the Junior Choir at the tender age of 5. After few years she was promoted to the senior Choir at age 7.
Esther Igbekele started her professional music career in 1996 and at the cause of gaining more knowledge in her career she worked with big wigs in the Nigerian Gospel Music space, she worked with a lot of singers like Pastor J.A. Bankole of Iluayo Gospel Singers (Crusaders Church), she sang with Baba Ayewa Pastor J.A. Adelakun for 5 years then Imole Ayo Music Organisation of Evangelist Akin Adebayo for 4 years, then Evangelist Kingsley Ogunde where she learned her stagecraft.
Her first gospel music release was named "Gospel 2000", she then created her first album named "Breakthrough" in 2001, altogether her albums is over 14 some of them are; Holyghost Knockout, Divine Upliftment, Oluwa Lo ni Glory and many more.
Esther Igbekele's style of music falls under gospel pop, same genre where we find the likes of Tope Alabi, Yinka Ayefele and many other Yoruba gospel artists.
Read Also: Full Biography Of Yinka Ayefele & Net Worth
As a consistent and hard-working musician she was able to reach the top in her career and has been a source of inspiration to upcoming gospel musicians in the country she has also received a lot of awards and ministered in Nigeria and abroad.
Albums
Below are some of Esther Igbekele's albums:
Breakthrough
Sound of Joy
Proclamation
Everlasting God
Taking Over
God's time
The pillar
Olorun majemu
His praise
Destiny Changer
She currently has up to 14 albums filled with spirit-filled and inspirational songs.
Net Worth
Esther Igbekele current net worth is estimated to be $150,000, her income is attributed to money made from her albums and live performances.
Personal Life & Relationship
Is Esther Igbekele Married? Esther Igbekele JP was formerly married to one Alhaji and the marriage hit the rock, Esther termed the marriage as a mistake that almost crippled her career, though the name of the Alhaji isn't made known but both parties are living fine in their respective domain.
She later got married to a man she called her God-Ordained Man, they are both living happily and Esther is blessed with kids, though we know of two that are boys, much information wasn't revealed if she has more.
Read Also: Top 10 Richest Fuji Musicians In Nigeria
Esther Igbekele Contact
Esther Igbekele phone number is not made available on the internet but you can always reach her on her social media handles.
If you enjoy reading Esther Igbekele net worth and her biography kindly hit the social media share buttons below, you can also make use of the comment box to air your views.
[sc_fs_faq html="false" headline="h2″ img="" question="Is Esther Igbekele married?" img_alt="" css_class=""] Esther Igbekele is happily married and bleseed with children of her own, her marriage is a fruitful one. [/sc_fs_faq]